The EIDON retinograph (
CenterVue
)
can automatically produce composite images that allow an overview of the retina of the patient.
Le rétinographe EIDON (
CenterVue
)
permet de réaliser automatiquement des images composites pour avoir une vue d'ensemble de la rétine du patient.
Eidon (
CenterVue
)
la macchina fotografica della retina può rendere automaticamente le immagini composite che consentono una panoramica della retina del paziente.
Last update May 23, 2017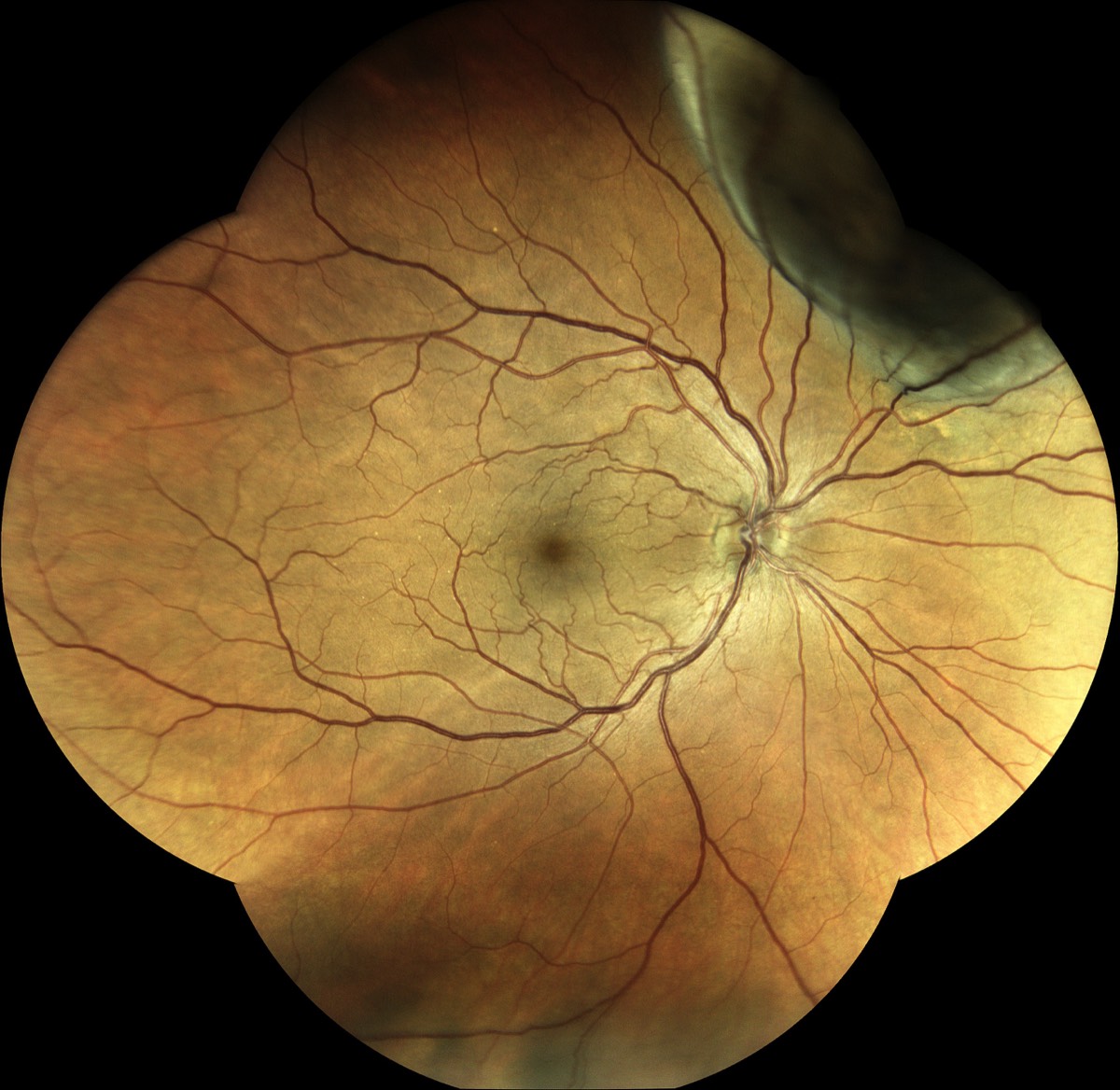 Courtesy of Dr Vincent Gualino, Montauban, France




Age-related Macular Degeneration / Dégénérescence Maculaire Liée à l'Age / Degenerazione maculare legata all'età
Courtesy of Dr Vincent Gualino, Montauban, France

Courtesy of Dr Vincent Gualino, Montauban, France

Courtesy of Dr Vincent Gualino, Montauban, France

Courtesy of Pr Pierre Labalette, Lille, France

Hemorrhage / Dr Muratet

Epiretinal membrane / Membrane épirétinienne / Membrana epiretinica
Courtesy of Dr Vincent Gualino, Montauban, France

Courtesy of Dr Vincent Gualino, Montauban, France

Courtesy of Dr Vincent Gualino, Montauban, France

Courtesy of Dr Vincent Gualino, Montauban, France

Courtesy of Dr Jean-Michel Muratet, Pamiers, France

Courtesy of Dr Jean-Michel Muratet, Pamiers, France

Diabetes mellitus retinopathy / Rétinopathie diabétique / Diabete mellito retinopatia
Courtesy of Dr Vincent Gualino, Montauban, France

Courtesy of Dr Vincent Gualino, Montauban, France

Courtesy of Dr Vincent Gualino, Montauban, France

Courtesy of Pr Pierre Labalette, Lille, France

Courtesy of Pr Pierre Labalette, Lille, France

Courtesy of Dr Jean-Michel Muratet, Pamiers, France
Vascular / Vasculaire / Vascolare
Courtesy of Dr Vincent Gualino, Montauban, France

Courtesy of Pr Pierre Labalette, Lille, France

Courtesy of Pr Pierre Labalette, Lille, France

Courtesy of Dr Jean-Michel Muratet, Pamiers, France
Glaucoma / Glaucome / Glaucoma
Courtesy of Dr Jean-Michel Muratet, Pamiers, France

Courtesy of Dr Jean-Michel Muratet, Pamiers, France
Toxoplamosis / Toxoplasmose / Toxoplasmosi
Courtesy of Dr Jean-Michel Muratet, Pamiers, France

Courtesy of Dr Jean-Michel Muratet, Pamiers, France

Courtesy of Dr Jean-Michel Muratet, Pamiers, France

Courtesy of Dr Jean-Michel Muratet, Pamiers, France

Miscellaneous / Miscellanées / Miscellanea
Courtesy of Dr Vincent Gualino, Montauban, France

Courtesy of Pr Pierre Labalette, Lille, France

Courtesy of Dr Vincent Gualino, Montauban, France

Courtesy of Pr Pierre Labalette, Lille, France

Courtesy of Pr Pierre Labalette, Lille, France

Courtesy of Pr Pierre Labalette, Lille, France

Melanoma / Courtesy of Dr Jean-Michel Muratet, Pamiers, France

Courtesy of Dr Jean-Michel Muratet, Pamiers, France

Courtesy of Dr Jean-Michel Muratet, Pamiers, France

Courtesy of Dr Jean-Michel Muratet, Pamiers, France

Courtesy of Dr Jean-Michel Muratet, Pamiers, France

R Detachment / Courtesy of Dr Jean-Michel Muratet, Pamiers, France

Metastasis / Courtesy of Dr Jean-Michel Muratet, Pamiers, France

Boxing / Courtesy of Dr Jean-Michel Muratet, Pamiers, France

Hamartoma / Courtesy of Dr Jean-Michel Muratet, Pamiers, France

Albinism / Courtesy of Dr Pascal Liotta, Saint Dizier, France

Tennis / Courtesy of Dr Jean-Michel Muratet, Pamiers, France

Bungee cord trauma /Dr Muratet